The Wayback Machine has become an integral aspect of the Internet Archive's user experience. Launched in 2001, this free service provides a window into the past by allowing users to view the state of the Internet at a certain moment in time. At the time of this writing, the Wayback Machine had archived 562 billion online pages.
This article explores the unique features of the Wayback Machine.
Internet Archive Introduction
The Internet Archive was co-founded by Brewster Kahle and Bruce Gilliat, and it operates as a non-profit with the goal of providing "universal access to all knowledge." Websites, publications, audio recordings (including live concerts), movies, photographs, and even software have all been made available to the public since the company's inception.
Internet Archive's collection currently occupies over 70 Petabytes of server space, with a second copy of everything stored elsewhere. Financial support comes from membership dues, grants, and the sales of digitized books. In order to protect its users' anonymity, the Internet Archive exclusively employs the HTTPS (secure) protocol and does not save users' IP addresses.
The Wayback Machine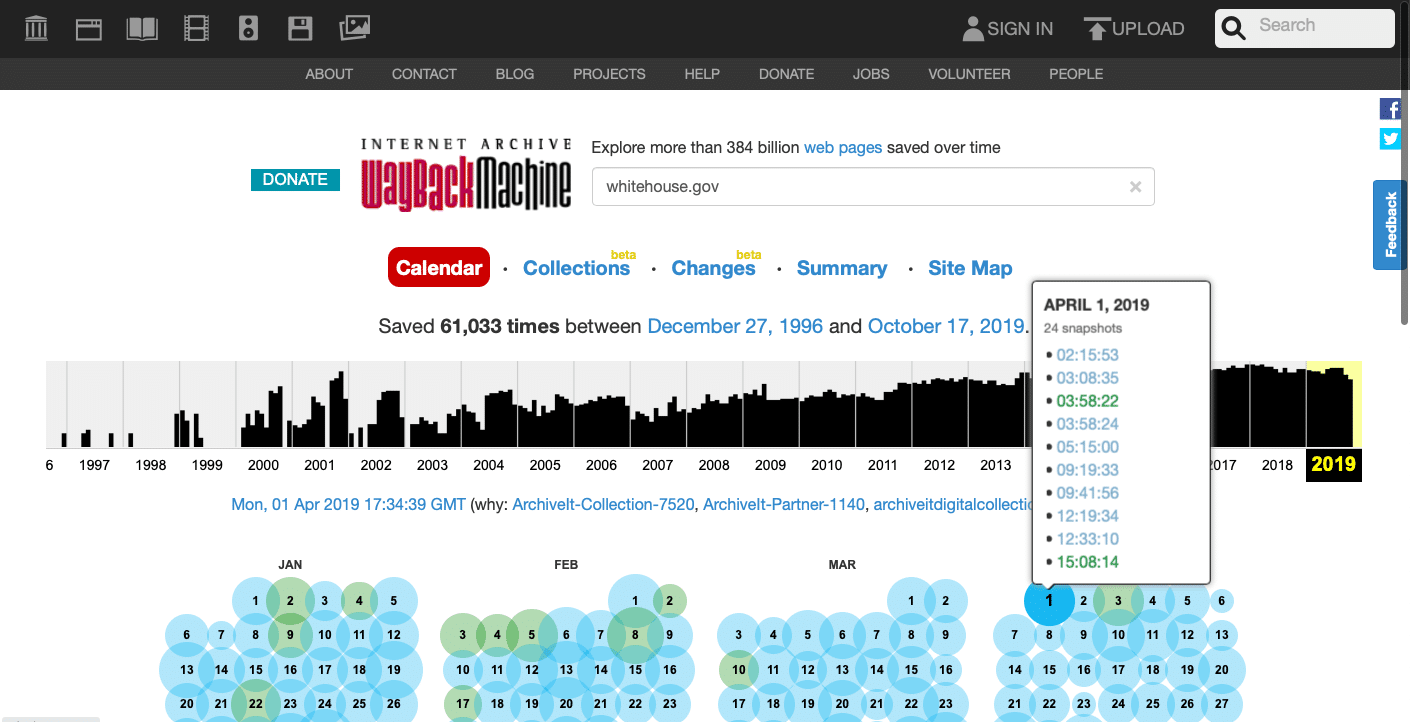 The Wayback Machine is an Internet Archive feature specifically created to preserve web pages before they are updated or taken down. Since its inception, it has rapidly grown in prominence to become one of the web's most well-known destinations. Kahle and Gilliat chose to honor the mythical time machine from the 1960s cartoon The Rocky and Bullwinkle Show by giving it as the site's namesake.
However, the Wayback Machine has been archiving cached web pages since May 1996, even though the Internet Archive didn't make the site public until October 2001. Prior to 2001, data recorded on digital tapes were only available to a small group of researchers and scientists.
Over 10 billion archived pages had been collected by the time everything went online to the public five years later (as had been long planned).
Read More: Minecraft Java Edition Free Download: Detailed Information Follows.
Storage and Collections
The site currently uses a cluster of Linux nodes to store its past web data. Through its crawl process, the Wayback Machine saves copies of all data files and information found on web pages that are freely accessible to the public.
However, this may not account for all of the information available through a website, as some data may be password-protected or housed in inaccessible databases. As a result, the crawling success of a website might vary widely from one instance to the next, depending on the approach taken by its creators.
It's also worth noting that the more recent the archive, the greater the quantity of data for that website. One of the reasons why more recent data is comprehensive is because of technology the Internet Archive launched in 2005. Archive-It.org enables organizations and content providers to harvest and preserve digital content collections, which helps to address anomalies in partially cached web pages.
About Crawling
Web crawlers, sometimes known as spiders or spider bots, have been around since the beginning of the World Wide Web. Crawlers are automated programs that routinely visit websites in order to collect data for search engine indexes. The Wayback Machine uses crawlers from a wide variety of sources, some of which have evolved over time, to build archived versions of web pages.
You'll quickly notice that the frequency with which snapshots are taken varies widely from one page to the next. The larger (and perhaps more popular) a website is, the more likely it is to undergo a crawl. In addition, the frequency of a website's page updates is crucial.
Any website, no matter how small, will be crawled at some point unless there is a specific reason they are not. Web pages that require a password to access or whose proprietors have specifically asked not to be indexed are two examples of those that are excluded from the crawl.
Using the Wayback Machine
Anybody can use the Wayback Machine since it's so intuitive. Type the name of the website you're interested in finding a snapshot of into the site's search bar. When a website was archived, the information is displayed as a hyperlink on the search results page. Just hit the link to go "back in time" to the site's previous iteration.
The following are snapshots of Apple's and CNN's homepages from certain dates: February 2005 and November 2014, and March 2004 and September 2010, respectively.
Read More: VMware Workstation: Check Here to Get All the Information About VMware Workstation
Advanced Tools
The Wayback Machine was designed for both researchers and the general public, and it has certain extra features that regular users may overlook. For instance, search engine results pages are built with quick referencing in mind.
You can copy the URL of an archived page if you want to include it on your own website or write about it in an article, as previously stated. Matching fuzzy URLs and specifying dates are also options. however, you're getting into some more complex territory there.
Site administrators may utilize the Wayback Machine's "Save Page Now" function to archive a current version of a page. However, it still has flaws. It does not add the site's URL to future scans at this time. It's also worth noting that the request just stores the current page. It is essential, though, to at least save your homepage for posterity.
Mobile and Developer Tools
It's nice to know that you can use the Wayback Machine in other ways besides the internet at long last. A Wayback Machine app is available for both iOS and Android.
Mozilla Firefox, Safari, and Google Chrome all have add-ons. The APIs of the Internet Archive Wayback Machine is also worth exploring for developers. These facilitate the retrieval of information regarding Wayback capture data by developers.
The Wayback Machine at the Internet Archive may connect to a wide variety of application programming interfaces. As a result, developers can more easily access details regarding data captured by Wayback machines.
The most popular use of the Wayback Machine is to view archived versions of previously visited websites. It's also a helpful resource for people who need to learn about the development of websites for professional or academic purposes. Don't do anything else before checking out the treasure trove of information that may be uncovered with only a few clicks of the Wayback Machine's button.