You occasionally come into an odd problem that is not only difficult to describe but also difficult to believe. The inability to remove apps on iOS 15 is one such issue that has vexed many iPhone users at various times. Believe me, I've been on the receiving end of this problem on several occasions. As a result, I understand the frustration you're experiencing. Fortunately, there are some workarounds for the "Can't delete apps on iPhone and iPad" problem. With that in mind, let's discuss the many options for resolving the issue!
'Can't Delete Apps on iPhone or iPad' Issue: 10 Solutions
Knowing what apps you can and can't delete on your iOS device might help you make better decisions. As a result, it's a good idea to first review the history of bloatware on iOS.
What Apps Can and Cannot Be Removed from an iPhone or iPad?
Every tech corporation aspires to have complete control over its software. Apple is no exception to this long-standing custom. That's why, whether we want it or not, we're bombarded with bloatware (built-in software). So, if you've ever come across some built-in apps on your iPhone that you hardly/never use and wondered why they're there, you're not alone. After all, you should have complete control over which apps should and should not be installed on your iPhone.
Apple has given users with iOS 12 and later a little more leeway when it comes to deleting built-in apps. If you don't like bloatware, you'll appreciate this decision.
List of First-Party Apps to Remove from Your iPhone and iPad
Maps
Measure
Music
Books
Calculator
Calendar
Compass
Contacts
FaceTime
Files
Home
iTunes Store
Mail
News
Notes
Translate
TV
Voice Memos
Watch
Weather
Podcasts
Reminders
Shortcuts
Stocks
Fitness
Tips
On your iPhone or iPad, here's a list of built-in apps you can't get rid of.
Camera
Clock
Settings
App Store
Find My
Health
Messages
Phone
Photos
If you're still using an older version of iOS, such as iOS 10 or 11, you'll have no choice but to live with the undesirable apps. You can create an app folder and dump all the unnecessary first-party apps there to prevent these apps from coming your way again and again.
Disable the restriction on app deletion.
The first step in resolving the "Unable to delete applications on iPhone or iPad" problem is to make sure there are no restrictions on deleting apps. Screen Time may have previously restricted app deletion on your device, but you may have forgotten to disable it subsequently. As a result, make sure it isn't in your way.
On your iOS or iPadOS device, go to Settings -> Screen Time -> Content & Privacy Restrictions.
Related – How to Dry Water from Your iPhone's Battery – 100% Working Methods
Enter your Screen Time passcode after tapping iTunes & App Store Purchases.
Select Allow after tapping Deleting Apps.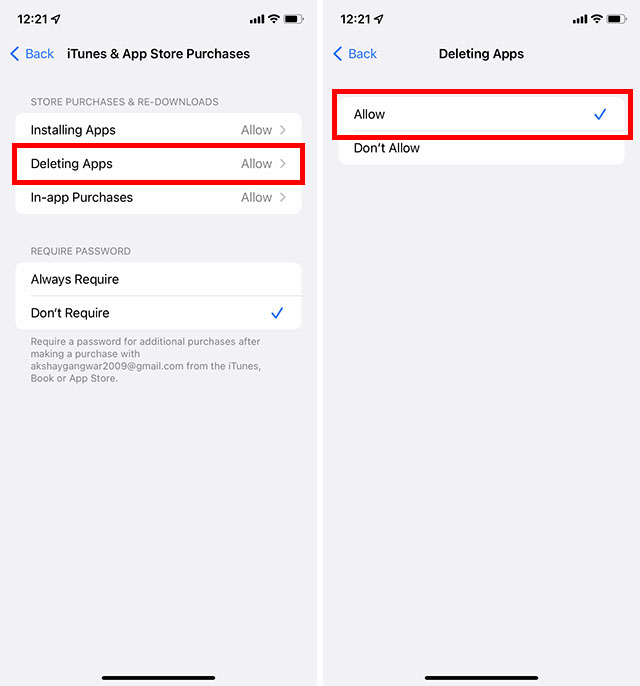 Next, go to the home screen and try removing any app to see whether the issue has been resolved. It should, most likely, solve the problem.
Apps from the Home Screen and App Library can be removed.
The procedure for uninstalling apps from the home screen and the App Library differs slightly. If you're unfamiliar with the Apple environment, you could be perplexed.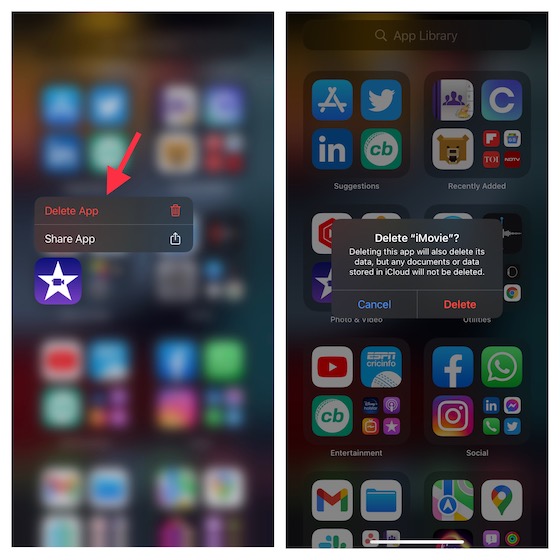 Related – How to Convert Photo to PDF on iPhone and iPad? Learn Easy Steps in 2022
Apps on the Home Screen Can Be Removed
Remove App -> Delete App -> Touch and hold the app icon you want to delete. Finally, confirm by tapping Delete in the popup menu.
Apps in the App Library can be deleted.
Go to the app you wish to delete, press and hold the app icon, then select Delete App -> Delete.
Delete Apps More Quickly on the iPhone and iPad
On iOS and iPadOS devices, there is a simple way to remove numerous apps quickly. Save this handy tip for when you need to get rid of a bunch of apps quickly.
Select Edit Home Screen from the contextual menu after touching and holding an app icon. All of your device's apps will now jiggle and display a "-" uninstall button.
Simply press the "-" key to delete the app, and you're done!
Force Restart Your iPhone or iPad
I always use the hard reset trick when dealing with strange or unexpected difficulties. Fortunately, it has come to my aid numerous times. So, I'd like to remind you of this hack's usefulness and recommend that you try it out.
Press and immediately release the volume up button on an iPhone 8 or later, or an iPad without a home button. After then, immediately press and release the volume down button. Then, until the Apple logo displays on the screen, press and hold the side/top button.
Hold down the volume down and side buttons at the same time on an iPhone 7/7 Plus until the Apple logo appears on the screen.
Hold down the home button and the side/top button on an iPhone 6s or earlier, or an iPad with a home button, until the Apple logo appears on the screen.
3D Touch/ Haptic Touch Sensitivity can be adjusted.
An option to alter 3D Touch/Haptic Touch sensitivity can be found tucked away in the Accessibility settings. If you're having trouble accessing the contextual menu that appears when you long-press an app icon, try changing the sensitivity of the 3D or Haptic Touch.
On your iPhone, go to Settings -> Accessibility -> Touch -> 3D/ Haptic Touch (depending on the iPhone model you have). Select either the Fast or Slow option.
After that, test the touch duration by touching and holding the image on the screen.
Are you attempting to uninstall an app that is still downloading? Instead, cancel the download.
If you want to delete an app that is actively downloading, you should cancel it instead. If the download is still in progress, you'll notice "Loading"/"Waiting" below the program.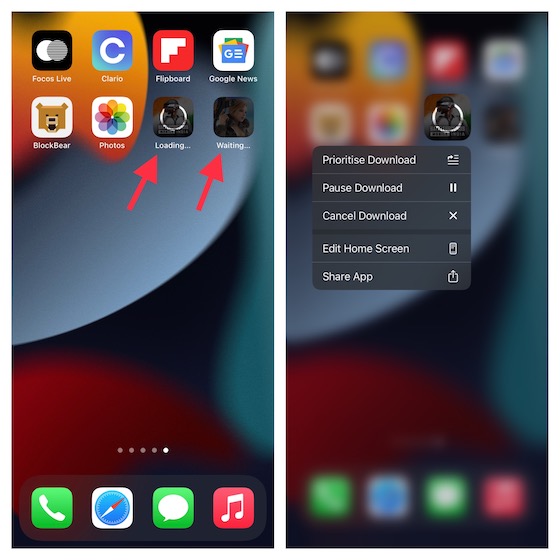 The option to delete the app is also gone when you long-press the app icon. If you don't want to download the app, go to the contextual menu and click "Cancel Download."
Apps can be deleted from the Settings App.
Many people are unaware that iOS includes a very simple way to remove apps directly from the Settings app. You may navigate through all of the apps on your cellphone to see how much storage each one has taken up, and then uninstall the ones that are no longer needed.
The nicest part about this method is that it allows you to erase programs as well as their associated documents and data, which may be quite useful when you need to clear out your device.
Go to Settings -> General -> iPhone/iPad Storage -> Clear Data. Now, locate the app you want to uninstall and tap it. Then select Delete App and confirm your action.
Upgrade your software.
If deleting apps still doesn't work, try updating your program. Inexplicable difficulties aren't new to iOS, even though you don't have to go this far in regular conditions.
Related – iOS 15.4 Latest Updates – Release Date & Time, New Features, Bug Fixes, Beta Version, and Much More
On your iPhone or iPad, go to Settings -> General -> Software Update. Allow iOS to search for available updates now. If an update is available, install it straight away.
Sign out of your Apple ID account and then sign back in.
Is there still no solution? Don't worry, we'll just sign out and back in with our Apple IDs. You shouldn't be concerned about losing any media or data because it's a secure way.
On your device, go to Settings -> Apple ID banner in the top center. Scroll to the bottom of the page and tap Sign Out. Now, iOS will allow you to save a copy of crucial data such as your calendar and contacts.
Before signing out of Apple ID, turn on the toggles for each option for added security. Then, using your Apple ID and password, log back in.
All Settings Must Be Reset
A factory reset is like a nuclear solution for resolving complicated iOS bugs. So, if you're still unable to erase apps from your iOS device, you should give it a shot. Keep in mind that it wipes away all old settings, including Wi-Fi and VPN, and starts from scratch. It does not, however, harm your media or data.
If you're using iOS 15 or later, you can: Go to your iPhone/Settings iPad's app -> General -> Transfer or Reset iPhone/iPad -> Reset -> All of your settings should be reset.
If you're on iOS 14 or earlier, you'll need to: Go to your device's Settings app -> General -> Reset -> All settings should be reset.
The issue with "Can't Delete Apps on iPhone" has been resolved.
It's as simple as that! With so many reliable fixes, I don't believe the problem is still present on your device. As previously said, taking care of the app deletion setting is more likely to solve the problem. If that doesn't work, a hard reset and the ability to erase apps from the Settings app are two further options to try to solve the problem. Anyway, which of these techniques did you use to resolve the app deletion problem on your iOS device? Please let us know what you think.