Whether you believe in the right to repair or enjoy doing things yourself, the potential to recover a bricked Apple Watch using your iPhone is likely to appeal to you. Yes, you read that correctly. You may now repair your bricked Apple Watch without needing to ship it to Apple with the release of iOS 15.4 and watchOS 8.5. The newly launched "Self Service Repair" initiative, is another great step forward in the Right to Repair movement. If you want to learn more about this brand-new Apple Watch recovery function, keep reading to find out how to repair an Apple Watch with an iPhone.
How to Restore an Apple Watch That Has Been Bricked Using an iPhone
Do not confuse this new Apple Watch recovery option with the standard Apple Watch reset procedure that we've all been using for years. It's made to deal with a bricked Apple Watch, which usually happens when a firmware update goes wrong or is halted. When this happens, Apple Watch may display a red exclamation point icon.
Apple Watch owners had to go to an Apple repair shop to get their smartwatch repaired before this device recovery capability was released. They'd have to send their watches in for repair if there were no authorized service providers in their area. You can self-repair your watch at home thanks to the adoption of this recovery feature.
Related – Samsung Galaxy S21 Ultra vs Galaxy S22 Ultra: Is it Worth the Upgrade?
Which iPhone and Apple Watch models are compatible with the new Apple Watch Recovery feature?
Apple hasn't revealed any details concerning device compatibility as of the publishing of this article. The Cupertino behemoth only specifies that watchOS 8.5 and iOS 15.4 or later are required in a recent blog post. If that's the case, the following devices may be able to take advantage of this feature:
Apple Watch Models Supported
Apple Watch Series 3
Apple Watch Series 4
Apple Watch Series 5
Apple Watch SE
Apple Watch Series 6
Apple Watch Series 7
Models of iPhones that are supported
iPhone SE 2, and 3
iPhone 13, 13 mini, 13 Pro, and 13 Pro Max
iPhone 12, 12 mini, 12 Pro, and 12 Pro Max
iPhone 11, 11 Pro, and 11 Pro Max
iPhone XS, XS Max, and XR
iPhone 8, 8 Plus, and iPhone X
iPhone 7 and 7 Plus
iPhone 6s and 6s Plus
Configure Your iPhone for Restoring a Bricked Apple Watch
To begin started, make a list of the key criteria.
Make sure your iPhone is up to date with iOS 15.4 or later.
Ensure that your iPhone is unlocked and that it is running iOS 15.4 or later. If you haven't updated your device yet, go to Settings -> General -> Software Update and follow the prompts.
Make sure your iPhone is connected to a stable Wi-Fi network.
Another important need you should check is that your iPhone is connected to a robust and stable Wi-Fi network. Instead of 5GHz, Apple suggests using the 2.4GHz network. It's also a good idea to stay away from 802.1X or captive Wi-Fi networks.
On your iPhone, go to the Settings app and select Wi-Fi. After that, I joined a Wi-Fi network.
Bluetooth must be enabled on your iPhone.
Make sure your iPhone's Bluetooth is turned on. Go to your iPhone's Settings app, then Bluetooth, then switch on the toggle.
Related – iPhone 14 Pro/Pro Max Schematics Show – Small Notch, Larger Camera Bump, 48MP Camera Lens Tipped Again in 2022
How to Restore a Dead Apple Watch Using an iPhone
Follow the instructions below to restore your watchOS device once you've completed the minimum requirements.
To begin, place your iPhone close to the Apple Watch you want to restore.
Next, plug in the magnetic charger to a power outlet and place your Apple Watch on it.
Double-click the Side button on your Apple Watch, which is right below the Digital Crown.
Next, on your iPhone, you'll get a popup that says something along the lines of "Recover Apple Watch." This Apple Watch has a fault that necessitates an update or restoration." To recover your Apple Watch, press Continue in the window and then follow the on-screen instructions.
Can't get your Apple Watch to work with your iPhone? Try These Solutions
If you can't get your bricked Apple Watch to work with your iPhone, try the following methods.
Try again by double-clicking the side button.
If your Apple Watch displays a red exclamation point, double-click the side button and then follow the procedures outlined above to recover your wearable device.
Turn Wi-Fi on/off
Turn off and on Wi-Fi if you can't recover your watchOS device with the iPhone. It's possible that a shaky Wi-Fi connection is preventing the restoration procedure from working properly.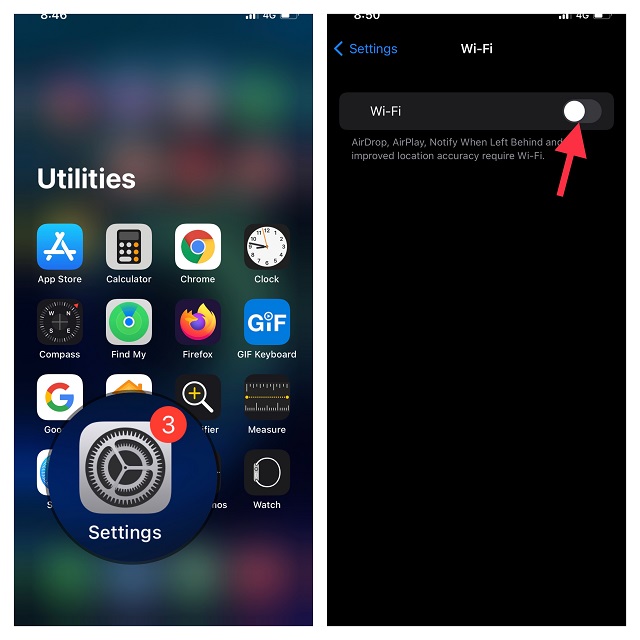 Tap Wi-Fi in the Settings app on your device. Turn off the Wi-Fi toggle next to it now.
Restart your iPhone after that. Return to the Wi-Fi settings and switch it back on after your device has rebooted.
Now, try to restore your smartwatch to see if the issue has been resolved.
Disconnect from the Wi-Fi network, restart your router, then reconnect.
If your Wi-Fi connection still isn't up to par, disconnect from the network and reconnect.
On your iPhone, go to Settings -> Wi-Fi -> I button next to a Wi-Fi network.
Now, confirm that you want to forget this network by tapping Forget This Network. Reconnect to the Wi-Fi network after that.
Activate or deactivate Bluetooth.
Because Bluetooth is necessary for reviving the Apple Watch, try turning it off and on.
On your iPhone, go to Settings -> Bluetooth and switch off the toggle.
Related – How to Dry Water from Your iPhone's Battery – 100% Working Methods
Restart your iOS device now. Turn on Bluetooth after the device has restarted.
Reset Network Configuration
Is there still no solution? If you can't get your watchOS device to recover, try resetting the network settings. Keep in mind that it will overwrite any existing network settings with factory defaults.
On your iPhone, go to Settings -> General -> Transfer or Reset iPhone -> Reset.
Then, indicate that you want to Reset Network Settings.
If nothing works, contact Apple Support.
If your Apple Watch cannot be recovered using your iPhone, you should contact Apple Support as soon as possible. You may need to take your Apple Watch to an approved Apple service location or mail it in for repair.
Restore your dead Apple Watch using your iPhone to get it working again.
So that's how the Apple Watch's official recovery feature works. It appears to be really useful for many users, and it deserves to be included among the finest Apple Watch tips, in my opinion. Furthermore, it will improve the iWatch's repairability. What are your thoughts on Apple's brand-new watchOS feature? Please let us know what you think in the comments area below.